Welwyn Anglo-French Twinning – Past Events
Welwyn – Champagne Twinning: 2016
by Vernonne Allen
Welwyn Parish Councillors and members of the Welwyn Anglo-French Twinning Association greeted their counterparts from twin village Champagne-sur-Oise on Thursday May 5th, 2016.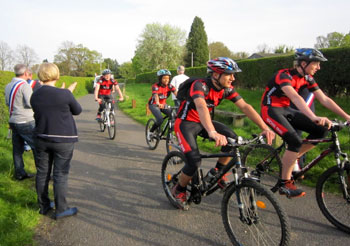 Most arrived at Welwyn North Station, except nine fire-fighters who made the journey by bike, with an overnight stop at Horsham Fire Station. Welwyn Fire-fighters welcomed them at The White Hill Centre with a dousing of water from their vehicle.
Chairman of Welwyn Parish Council, Bill Morris, and several Parish councillors, including Magdelene Benson and John Blackburn, gave everyone a warm welcome, especially The Mayor of Champagne-sur-Oise and her two deputies. It was the first time a Mayor had visited for the Twinning since 1996.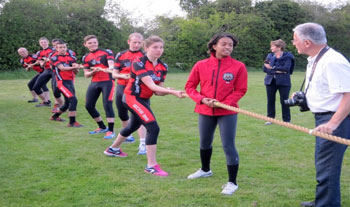 The visit started with two English traditions: a tug of war between the teams of fire-fighters, resulting in a draw and a fish and chip supper for everyone. Over forty French guests were billeted locally with WAFTA members. A trip to Cambridge was arranged on Friday which gave the French visitors a chance to try their hand at punting, to discover the American Cemetery and visit several colleges.
On the Saturday many hosts took advantage of the wonderful weather to take their guests out and about: the Living Crafts Fair at Hatfield House was a popular venue. Meanwhile the Welwyn Firemen gave their French counterparts a demonstration of current techniques at their station. A cycling scavenger hunt was arranged for the team who had cycled from France; some Welwyn folk took part as well, including David Munchin, The Rector of St Mary's Church Welwyn, who had cycled to Champagne-sur-Oise for the 2015 twinning, although at the time he was training for his 990 mile cycle ride from Land's End to John O'Groats later in the month.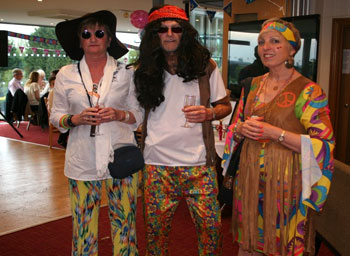 Mini skirted women and flower-power hippies took over Knebworth Golf club for Saturday evening's dinner-dance with a Swinging Sixties theme with dancing to live band, The Revivals.
Sunday was the final morning in Welwyn with hosts. There was much kissing of both cheeks on Welwyn North station as everyone bade their French friends adieu until next year.