Welwyn Anglo-French Twinning – Forthcoming Events
2020 Events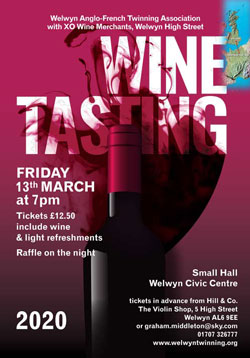 Friday 13th March 2020
Wine Tasting with XO Wine Merchants
7pm. Welwyn Civic Centre, Small Hall.
Tickets £12:50 to include wine and light refreshments. Raffle.
Friday 24th April 2020
A talk, speaker to be confirmed.
7:00 pm. Welwyn Civic Centre, Small Hall. Raffle.
Weekend from Thursday 21st May
Twinning Weekend. Members only.
June 2020
We will have a stand at the Welwyn Street Market.
Tuesday 14th July 2020
Bastille Day event for Members only.
TICKET SALES
Tickets for WAFTA events can be purchased from Hill and Co. in Welwyn. Please use the full name 'Welwyn Anglo-French Twinning Association' when paying by cheque for tickets to our events. Our bankers are no longer prepared to accept cheques for deposit to our account made payable to the acronym 'WAFTA'. If you are unable to go there to purchase them, contact Graham Middleton graham.middleton@welwyntwinning.org. Note that any tickets reserved for collection at the door will be subject to the £1 surcharge unless paid for in advance.

Hill and Co.,
The Violin Shop,
5 High Street,
Welwyn,
Herts AL6 9EE
01438 715849
Ongoing Events


French Conversation Group
The group is continuing to meet roughly once a fortnight. Anyone interested can obtain details from Janice Kaye janice.kaye@welwyntwinning.org. Note that this is not suitable for absolute beginners.
Welwyn Anglo-French Twinning – Past Events
Click here to read about our past events and see our colourful publicity posters.