French Conversation Group
Dates for the next conversation meetings are as follows:
Monday 25th September at 7:30pm. Host: Graham Middleton
Monday 30th October at 2:30pm. Host: Sue Nice
Monday 27th November at 2:30pm. Host: Linda Curiel
Monday 18th December at 2:30pm. Host: To be confirmed.

We are starting at 7:30pm during British Summertime, and switching to 2:30pm when Wintertime starts.
History
The French Conversation Group was formed in 2010 as a WAFTA activity offering members an opportunity to speak French on a regular basis. The group is mixed in terms of language ability but structured so that everyone can take part in a conversation on a wide range of topics or language-related games and activities. Meetings are held regularly and are informal, hosted by group members in their homes with refreshments.
A small voluntary contribution is made from which a donation is made to a charity each year chosen by the group. Past recipients include Herts Air Ambulance, the Isobel Hospice and the Digswell Place Riding for the Disabled Group.
We began with a group of six and now have over 20 members, all of whom have a reasonable level of understanding and can hold a basic conversation rather than just survival language. The conversation group is for WAFTA members.
For more details contact Barry Bracken barry.bracken@welwyntwinning.org.
Medical Detection Dogs: Update
Back in February 2015, some of you will recall that the Conversation Group sent off their coffee money as a donation to the above. After the initial letter of thanks, they have sent us an update now.
We don't get to sponsor an individual puppy, but when the puppies are put with volunteer foster families during their training, the money is used to pay for food, treats, toys, leads, vet bills, etc, etc.
We also hear how much the dogs help people live independent lives. Lots of dogs go to people with diabetes – the dogs can tell when the patient is going hypo or hyper – but they also had examples of where dogs are helping people with Addisons, Postural Tachycardia Syndrome and Narcolepsy – all cases where people can black out without any warning.
The other big activity for them is to see if the dogs can reliably detect cancer in patient specimens. It's an ongoing research programme in their HQ centre at Great Horwood (near Milton Keynes). It's early days yet, but the results do seem to be promising, and with the support of the Wolfson Trust, they have set up a new BioDetection Unit.
See below for our sponsorship certificate is attached, along with a scan of some of the challenges that people are doing to raise money.
John Winchester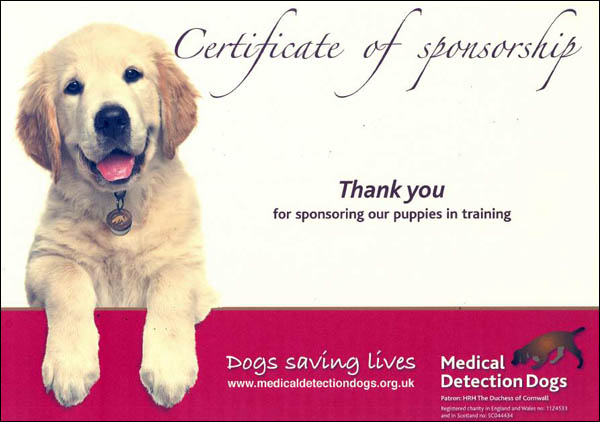 Click on picture below for larger version.