Welwyn Anglo-French Twinning – Past Events
Another Year of Entente Cordiale
by Alan Sparshott
This year our friends from Champagne-sur-Oise visited Welwyn for the annual Jumelage. They travelled by Eurostar to St Pancras on the Saturday and the Welwyn Committee organised a coach visit to the Westfield Centre, Stratford, to view the Olympic Park and also a drive through the City of London.
Our friend, Yves Chambon, came on his own this year and once again we enjoyed the experience.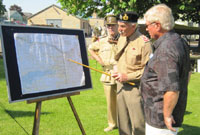 Each year there is a theme for the Twinning and this year, as we were visiting Bletchley Park, we dressed up in 1940's style clothes. We all met up at Woolmer Green Village Hall for the usual Gala Dinner evening of delight – dancing, singing, eating and drinking. The menu for the meal included parsnip soup and corned beef hash, which followed the theme of "basic 1940's rations" Hopefully next year the food will be more appetizing!
The following day I went with the party by coach to Bletchley Park to explore the WWII secret code breaking base and see the Colossus equipment and the history of the site. The day was made more enjoyable with many displays and a lot of people dressed in military and civi clothes from the 1940's. "Churchill" and "Monte" were also in attendance.
Afterwards the French families returned to their host families for further entertainments and drinking. This year we enjoyed a quiet family English dinner of roast beef etc, with good champagne and red wine (brought by our guest).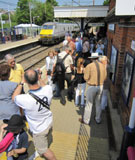 Our weekend finished with an English brunch at The Cowper Arms and a leisurely stroll to Welwyn North Station for the departure. Our visitors then travelled to Kings Cross / St Pancras by train and onward by Eurostar.
We have entertained and been entertained by our exchange family for nearly 20 years and it is a pleasure to exchange views and comments about French and English politics, world affairs, family life and times in our different countries. We enjoy communicating in "Franglaise" and learn from each other.
We joined the association when our two boys had left home and we had a spare room but I think it would have been a major benefit to have included children in the exchange. There are now only six families in Digswell in the Twinning and I am sure you would enjoy the experience also. Next year is the 40th anniversary of the Twinning and we go to Champagne-sur-Oise for the festivities.
You might like to learn more about the Welwyn Twinning Association and if you want further information about the Twinning, please contact Nigel Jeffery at nigel.jeffery@welwyntwinning.org.
Alan Sparshott