Welwyn Anglo-French Twinning – Past Events
Twinning Weekend 2009
by Sue Nice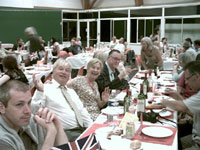 On a bright Friday morning at the end of May a group of Welwyn residents were to be found besporting themselves at St Pancras, having coffee and croissants on the concourse, apart from those – slightly more affluent that the rest of us! – who had repaired to the champagne bar for champagne and oysters. Very soon our Eurostar train had whisked us to Paris, where we found some friends from Welwyn waiting for us. They had travelled by car the day before and spent the day in Paris. We were also met by someone from the French committee who escorted us to the local train to Champagne.
A joyful reunion with our French friends took place at Champagne station, followed by a reception at the Mairie. There speeches of welcome were made whilst we sipped wine and nibbled canapés. An evening with the individual French hosts followed.

The next day, after a leisurely morning, we were taken by minibus to the local call centre of the French firemen, which we observed in operation. We saw their equipment, which was awe-inspiring, and also paid a visit to their museum – altogether a most interesting afternoon. Saturday evening was spent enjoying much wining, dining (a delicious buffet meal) and dancing.
Sunday passed in a variety of ways – games of boules, visits to local châteaux and other places of interest. All too soon it was late afternoon and we were being waved off at Champagne station en route for Paris and our train home.
Sue Nice